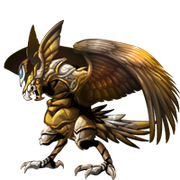 Thorondore

' '
Monster Info
Name
Thorondore
Element
Flying
Rarity
Legendary
Evolves From
None
Evolves Into
None
Thorondore is a Flight Monster of the Legendary rarity.

Thorondore can be obtained by reviving a Fossil. Reviving it requires the following:
Golden Feather x1 (Complete 12 Island on Hard)
Gilded Brow x1 (Blisful Bay)
Bone Fragment x50 (dig up around the islands)
Gene Sample x30 (dig up around the islands)
Ancient Energy x5 (dig up around the islands)
Abilities
Born with
Feather Attack III
Trainable
Barrage
Roundhouse
Cyclone
Gallery
Ad blocker interference detected!
Wikia is a free-to-use site that makes money from advertising. We have a modified experience for viewers using ad blockers

Wikia is not accessible if you've made further modifications. Remove the custom ad blocker rule(s) and the page will load as expected.